I just can't stand it! Personally, I'm beyond "disappointed" in this Congress & in this Administration. The increased use of drones is horrifying! The countless lives lost is tragic! The back-slapping & hand-shaking going on in Congress is disgusting! I do NOT feel safer & I do NOT sanction the use of drones, weapons or any other forms of violence! I don't know how to stop it, but I won't stop trying.
Drones Watch
by Spencer Ackerman | The Guardian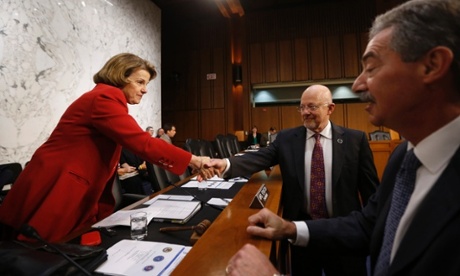 US Senate intelligence committee chairwoman Dianne Feinstein shakes hands with director of national intelligence James Clapper. Photograph: Jason Reed/Reuters
At the behest of the director of national intelligence, US senators have removed a provision from a major intelligence bill that would require the president to publicly disclose information about drone strikes and their victims.
The bill authorizing intelligence operations in fiscal 2014 passed out of the Senate intelligence committee in November, and it originally required the president to issue an annual public report clarifying the total number of "combatants" and "noncombatant civilians" killed or injured by drone strikes in the previous year. It did not require the White House to disclose the total number of strikes worldwide.
But the Guardian has confirmed that Senate leaders have removed the language as they prepare to bring the bill to the floor for a vote, after the…
View original post 870 more words